Fall is a wonderful season to celebrate the beauty of nature and the bounty of harvest. Whether you are hosting a cozy dinner party, a festive Thanksgiving feast, or a casual family gathering, you can create stunning fall centerpieces that will impress your guests and add some autumn charm to your home. Here are some ideas for DIY fall centerpieces arrangements that you can easily make with simple materials and a little creativity.
Candles
Candles are a great way to add warmth and ambiance to your fall décor. You can use candles of different sizes, shapes, colors, and scents to create a cozy and inviting atmosphere. You can also use candle holders that match your theme, such as glass jars, metal lanterns, wooden boxes, or ceramic pumpkins. To make your candles more festive, you can decorate them with ribbons, twine, leaves, berries, nuts, or cinnamon sticks. You can also carve out pumpkins or apples and use them as natural candle holders.
Autumn Flowers
Autumn flowers are a beautiful way to add a touch of color and warmth to your fall decor. You can use fresh or artificial flowers in shades of orange, yellow, red, burgundy, or purple to create stunning floral arrangements. You can also mix and match different types of flowers, such as sunflowers, chrysanthemums, dahlias, roses, carnations, or hydrangeas. You can use vases, baskets, pots, or buckets to hold your flowers, and add some greenery, pinecones, acorns, or wheat to fill in the gaps. You can also make a wreath with autumn flowers and hang it on your wall or door.
Pumpkins
Pumpkins are a quintessential fall symbol, and they make for a beautiful and unique centerpiece. You can use pumpkins of different sizes, shapes, colors, and varieties to create a stunning display. You can also paint, carve, or embellish your pumpkins with glitter, sequins, stickers, or fabric. You can also cut open your pumpkins and use them as vases or containers for flowers, candles, fruits, or nuts. You can also stack your pumpkins on top of each other or arrange them in a row or a circle.
Tall Centerpieces
If you want to add some height and drama to your fall table setting, you can create tall centerpieces that will catch everyone's eye. You can use tall glass cylinders, wine bottles, candlesticks, or vases to hold your centerpieces. You can fill them with water, sand, pebbles, beads, or marbles to add some weight and texture. You can also add some branches, twigs, leaves, berries, or feathers to create a rustic and natural look. You can also hang some ornaments, crystals, lights, or ribbons from your tall centerpieces to add some sparkle and movement.
Wheat
Wheat is another symbol of harvest and abundance that you can use to create simple and elegant fall centerpieces. You can use wheat stalks of different lengths and colors to create a bunch or a bouquet. You can tie them with ribbon, twine, lace, or burlap to add some contrast and interest. You can also add some dried flowers, herbs, or grasses to your wheat arrangement to add some color and variety. You can place your wheat centerpiece in a vase, jar, bottle, or basket.
Fruits
Fruits are a delicious and colorful way to decorate your fall table. You can use fruits that are in season during fall, such as apples, pears, grapes, oranges, pomegranates, or persimmons. You can also use dried fruits, such as cranberries, apricots, or figs. You can arrange your fruits in a bowl, platter, basket, or tray. You can also mix them with nuts, cheese, or chocolate for a tasty treat. You can also skewer your fruits on wooden sticks or metal rods and create a fruit tower or a fruit bouquet.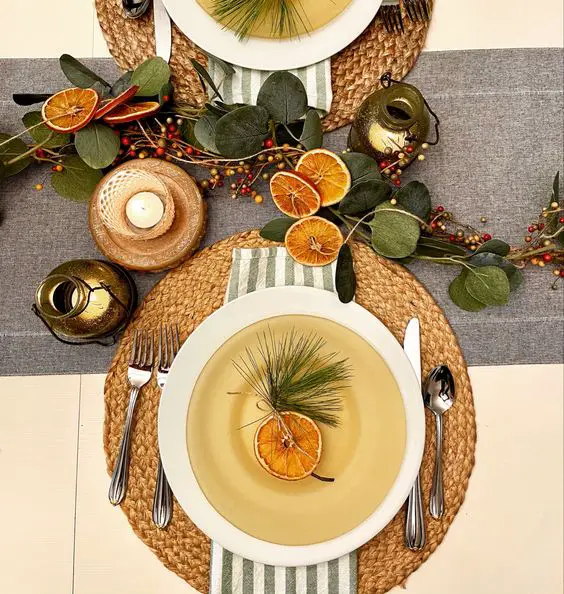 Fall is a great time to get creative and crafty with your home décor. You can make beautiful fall centerpieces that will enhance the mood and style of your space. You can use simple materials that you can find in nature or at home. You can also customize your centerpieces according to your preference and theme. You can have fun making these DIY fall centerpieces arrangements 2023 with your family or friends. They will surely make your fall celebrations more memorable and enjoyable.